Zombies 1, Arms Trade 0
October 10, 2012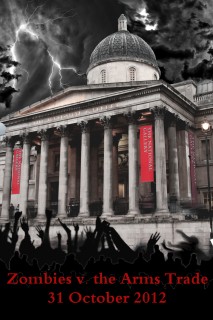 We have won the Disarm the Gallery campaign!
The National Gallery's long-standing sponsorship arrangement with weapons manufacturer Finmeccanica has ended! The arrangement has been terminated one year early and just weeks before our zombie protest was planned. Read more here.
The Zombies v. the Arms Trade event is off (Zombies 1, Arms Dealers 0) but the Gallery refuses to make a public statement about whether arms company sponsorship posed any ethical concerns. We want to make sure they do not host arms companies in future!
Please tell the National Gallery's Director that you are pleased the relationship with Finmeccanica has ended – and ask him to publicly confirm that the Gallery will not support the arms trade again. You could send a card or letter to Dr Nicholas Penny, National Gallery, Trafalgar Square, London WC2N 5DN.
Was it the threat of zombies that did it? Perhaps we'll never know for sure…
No replies to "Zombies 1, Arms Trade 0"