Colombia and its Military Suppliers at DSEI
September 9, 2013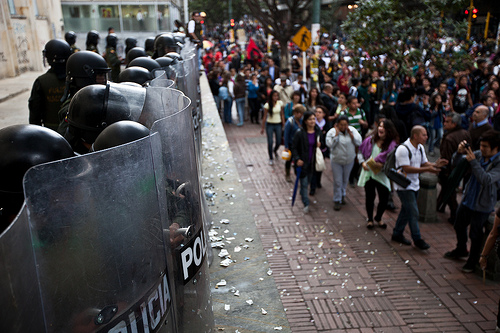 (Riot police in Bogota, Colombia- photograph by Oneris Rico)
The last six months were apparently the bloodiest on record for human rights workers in war-torn Colombia, a country which has been ravaged by internal conflict for nearly half a century. The national watchdog group 'Somos Defensores' reports that thirty-seven human rights workers were killed between January and June this year, and the killings show no sign of abating.
In spite of this, Colombia has been invited by the British government to attend the DSEI arms fair in London this September, as it was in 2011. Some of its biggest military suppliers will be exhibiting there too.
Four out of Every Five Victims of the War in Colombia Have Been Civilians
According to a government-funded study released this year, at least 220,000 people have been killed since internal conflict broke out in 1964. 80% of the dead were civilians.
Amnesty International's annual report notes that in 2012 the Colombian security forces "continued to be responsible for serious human rights abuses and violations of international humanitarian law." This year, extrajudicial killings are still being reported. According to Justice for Colombia, four people were shot dead "after government forced forces opened fire on unarmed protesters" in Northeastern Colombia in June this year. A month earlier, a peasant farmer was allegedly executed by the army in Cordoba.
In light of the "dire human rights situation" there, Amnesty International have been calling for a "complete cutoff" of US military aid to Colombia since 1994. The United States is the country's main military sponsor, providing more arms to Colombia than it does to any other country in Latin America. Since 1996, the overall value of US military and police aid to Colombia has exceeded $7bn.
British Arms Sales to Colombia
Since 2010, the British government has granted export licenses for the sale of small arms ammunition, explosives, grenade ammunition, anti-riot gear, weapons sights and components for machine guns, assault rifles and pistols to Colombia. The total value of export licenses for military equipment to Colombia has been valued at £6m in the years between 2008 and 2012, with a further £18m for dual-use equipment.
Which Companies at DSEI Sell Arms to Colombia?
1. General Dynamics (US): light armoured vehicles, 2013
2. Northrop Grumman (US): air defence system, 2013
3. EADS/Airbus (Europe): military aicraft C295, 2012
4. Terma (Denmark): Scanter surveillance radar, 2008
5. Thales (France): combat systems
6. Elbit Systems (Israel): Hermes unmanned air systems, 2012
7. Cobham (UK): avionics system, 2011
Also, a number of arms companies which have bases in the UK, including UTC, Smiths Detection, Aeronautical & General Instruments Ltd, AmSafe, Ipeco and GE Aviation, are known to have applied for export licenses to sell to Colombia in 2010. All six will be attending DSEI in September; they can be located on arms trade map here.
Take Action Now!
There are plenty of things you can do to take action against the fair and challenge the export of arms to Colombia. For example, you can
No replies to "Colombia and its Military Suppliers at DSEI"