In support of Christian activists on trial
February 1, 2014
Whatever happens in court, it's the arms companies and the UK government who are the real criminals. The activists from the Occupy vs the Arms Fair day of action stand in solidarity with the Christian activists charged with similar offences who are first to have their trials on 3 and 4 February 2014.
They said:
We are opposed to the business of war and militarisation as a commercial activity. Whatever the verdict in court, the business of war is inherently unjust and repugnant. We support direct action to expose this injustice and to undermine the efforts of warmongers, including those who legitimise and facilitate war and militarisation such as the UK government.

The Christian activists have our full support, and we encourage others to support them in court and by whatever means they can.
You can keep up to date with the progress of the Christian activists' case by following @PutDownTheSword.
There will be a vigil in solidarity with the activists outside Stratford Magistrates Court on 3 and 4 February. You can find out the latest information here.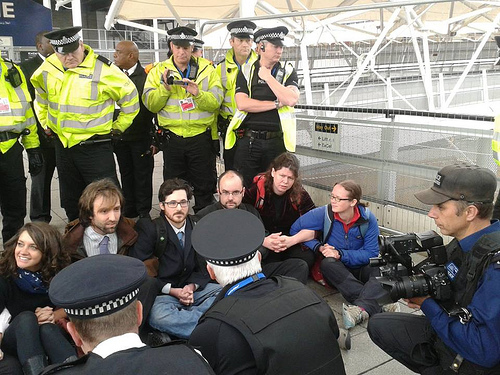 No replies to "In support of Christian activists on trial"