Boom time for Drone Deals at DSEI
August 27, 2013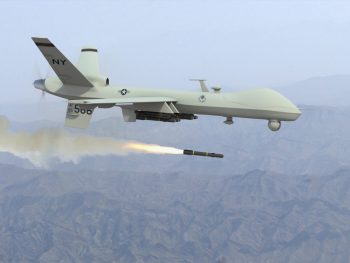 Drone Wars UK shares the latest on drones at the arms fair.
Thousands of military buyers will descend on London from 9-13 September to be wooed, wined and dined by military salesmen from the world's largest arms companies. Many of those buyers will arrive with the same item at the top of their shopping list: drones.
Drones have become the latest 'must have' weapon and companies large and small are plying their drone wars (sorry, wares) at this year's show. Despite the huge public concern at the rise of the remote warfare, drone industry lobbyists are working hard behind the scenes to "relax" controls on drone proliferation. Of course at DSEI, the word 'drone' is unlikely to pass any military salesperson's lips; 'Unmanned Aerial Vehicle' (UAV) or preferably 'Remotely Piloted Aerial System' (RPAS) are the de-rigueur terms when it comes to striking deals – at least in public.
Drones were big business at DSEI 2011 and this year the focus on 'unmanned systems' is even greater with a special pre-DSEI drones day-conference being held on Monday 9 September. The conference is being billed as 'the one-stop shop' for those interested in drones. Delegates will be able to mingle with
"the thought leaders and policy makers who are shaping UAS requirements for the future [and] meet leading civilian and military technology experts working on the next generation of unmanned systems".
As well as the specific day conference, throughout DSEI there will be an a programme of seminars aimed at "enabling debate and discussions" on the drones issue (our invite to participate seems to have got lost in the post). And if that is not enough droning on, there is also a 21,000 sq ft (expanded from 8,000 sq ft in 2011) 'unmanned systems showcase' – a zone within DSEI dedicated to demonstrating and showcasing 'unmanned systems'. DSEI says
"The zone is a dedicated area on the show floor which was established to promote and demonstrate the capabilities of a diversity of unmanned systems. At DSEI 2011, demonstrations included unmanned ground vehicles (UGV) and unmanned aerial vehicles (UAV). It is planned that during DSEI 2013 unmanned underwater vehicles (UUV) will be able to join other maritime demonstrations in the dock adjacent to the ExCeL. Unmanned Combat Air Systems (UCAS) are also expected to feature."
As well as flying drones at DSEI itself there will also be "live data links to DSEI from unmanned systems operating remotely outside of London." We believe these drones will be flying at the Drones test centre at Aberporth in West Wales.
Over the past five years we have seen a massive rise in the use of armed drones around the globe. While it has been a 'boom time' for the drone companies, in Gaza, Pakistan, Afghanistan and Yemen hundreds, perhaps thousands of innocent people have been killed in drones strikes. At this year's DSEI once again Israeli, British and US drone companies will be hawking their 'battle-tested' drones to military buyers. Isn't it time we stopped them?
As part of the on-going protests against DSEI, drone campaigners are holding a 'Say No to the Games of Drones' action on Monday 9 September. At the same time Welsh drone campaigners will be at the West Wales UAV centre in Aberporth. Please do join us.
No replies to "Boom time for Drone Deals at DSEI"