Day 5: Freedom of movement for people NOT weapons
September 11, 2015
On Friday, our day of action brought together numerous groups to show solidarity with refugees and to explore the links between the arms trade, migration and institutional racism.  In the wake of the current crisis in Calais, we wanted to show its unacceptable that instead of welcoming refugees, our government is welcoming arms dealers – the very people who are fueling and profiting from the crisis.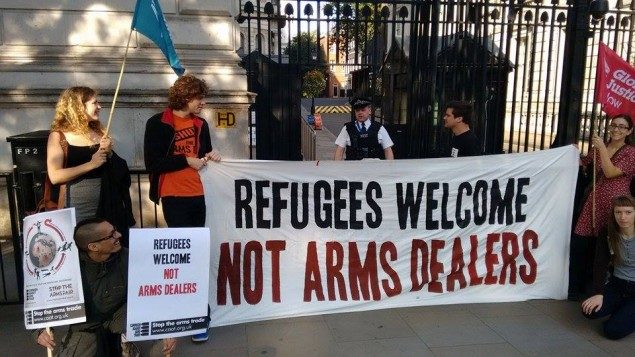 To kick off the day, a petition carrying over 10,000 signatures was delivered to 10 Downing Street with the message "welcome refugees, not arms dealers". Then, over at the Excel Centre, messages from those who had signed the petition were read out over the mic. The crowd that gathered also heard inspiring talks from a range of speakers including the All African Women's Group, Green Party Leader Natalie Bennet, a live phone call from migrant groups in Calais, and a rousing speech from Black Dissidents.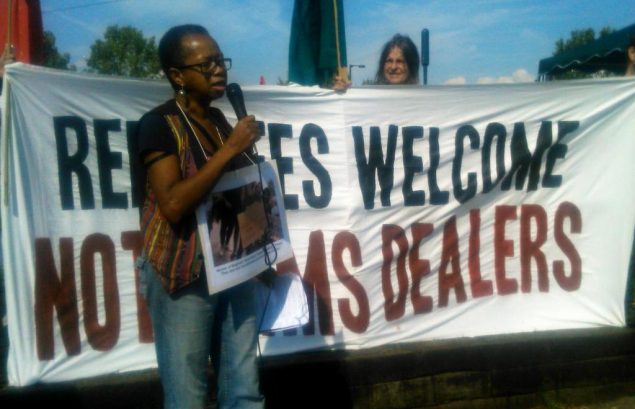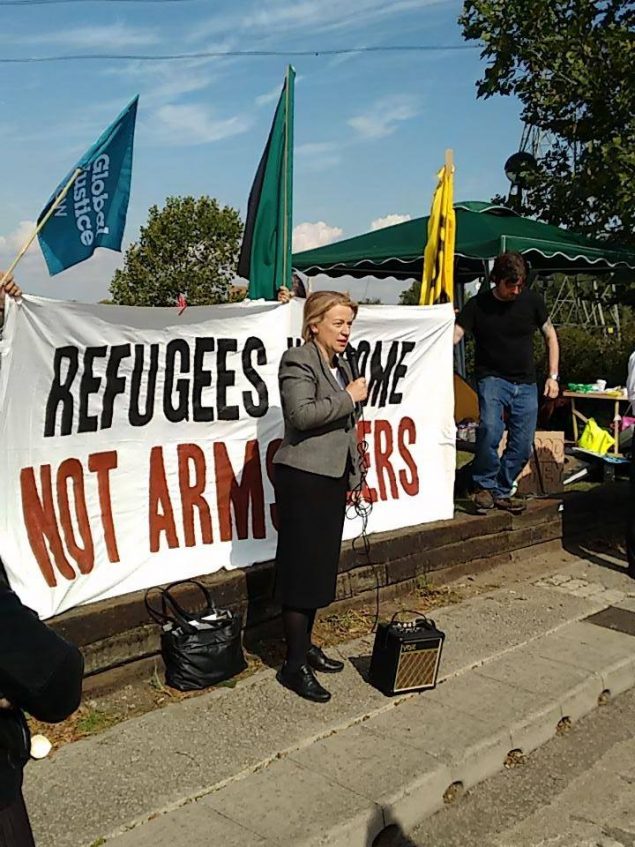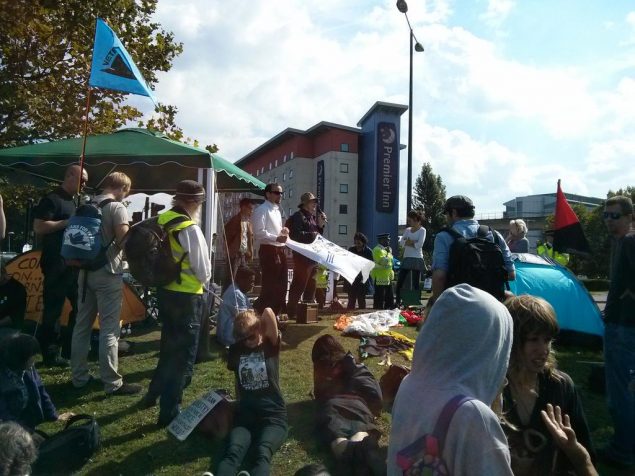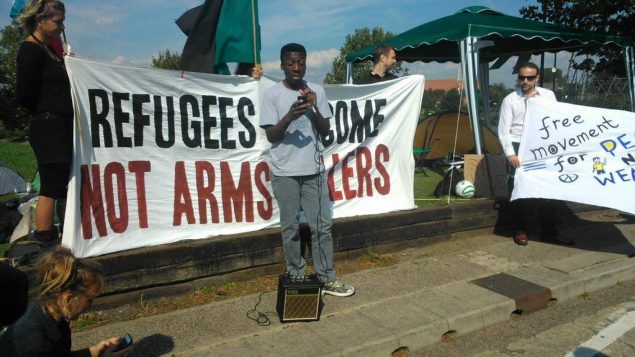 Inspired by what they heard, activists in the crowd decided it was time to take action. Fittingly, they set up an 'alternative border force' with a very simple policy: arms dealers not welcome!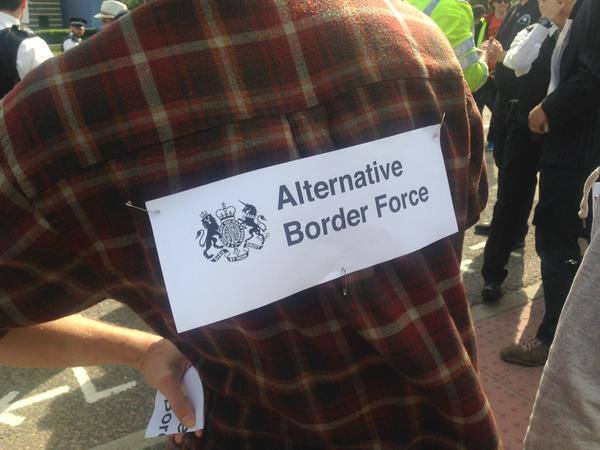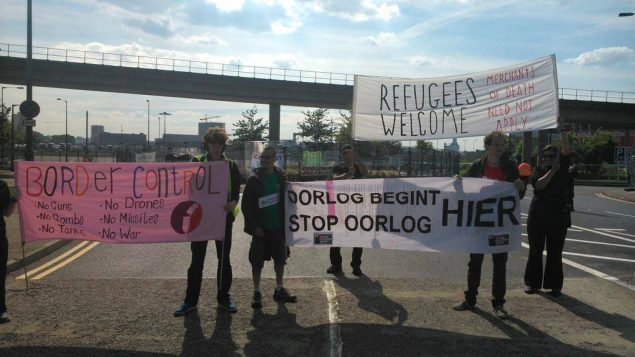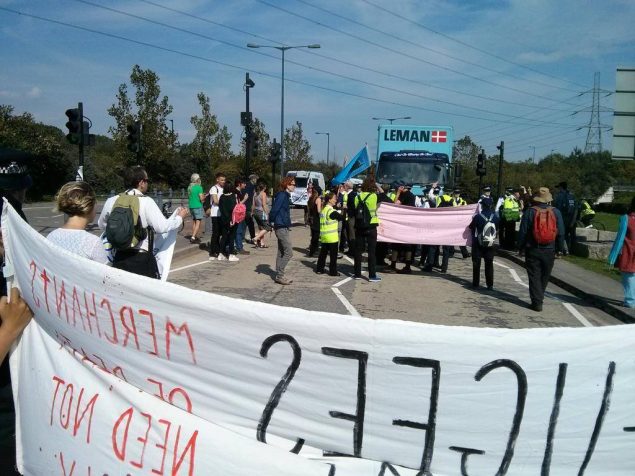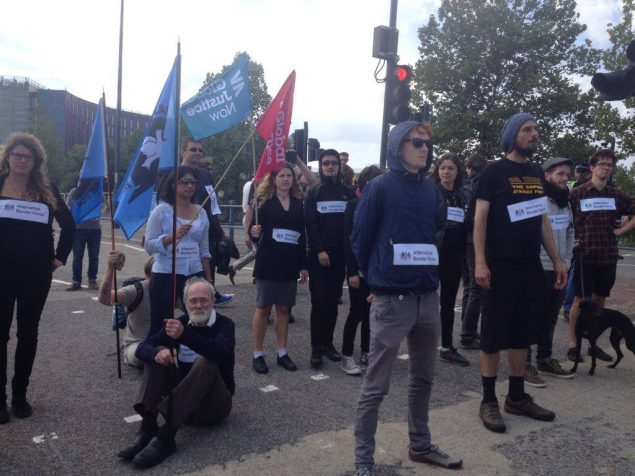 The road remained blocked for several hours as the border force did their work of keeping arms dealers from entering the Excel.
In this piece of creative action, we saw how different struggles link up with the arms trade and how much groups engaged in those struggles can achieve when they come together. As Nick Dearden argues in his recent piece, "Many people have been asking David Cameron what he plans to do about the refugee crisis over the last few weeks. But what about his role in helping create the crisis in the first place?"
The Prime Minister expressed incredulity when questioned in the House of Commons by Caroline Lucas MP about the connection between "arms sales and the terrible tragedy that we see unfolding around us". True, Syria has not been top of the list for British arms sales. But weapons are pouring into it from countries across the Middle East that the UK has been dealing with. Refugees are fleeing conflict zones such as Libya and Afghanistan – two countries that Britain has not just sold arms to, but attacked, and with considerable human cost."
On Friday, we sent a strong message that this situation is unacceptable.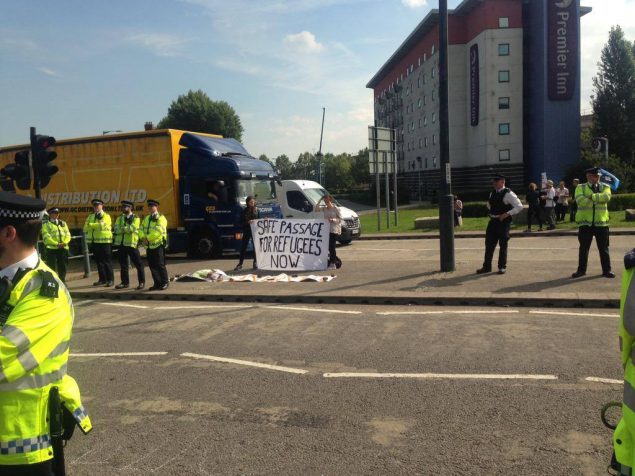 The week of action continues with Saturday's mass demonstration against the arms fair.
No replies to "Day 5: Freedom of movement for people NOT weapons"