It starts here. Let's stop it.
June 2, 2015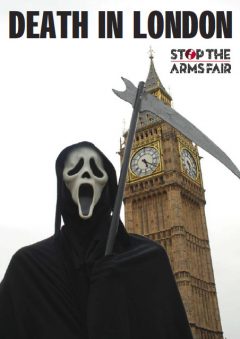 In September, the world's weapons industry plans to arrive in London for a huge arms fair: Defence & Security Equipment International (DSEI). The results of DSEI are felt around the world as people are killed, economies are devastated, refugees are traumatised and peaceful protest is crushed.
War starts here: Despite Israel's brutal attacks on Gaza last summer which Save the Children described as a "war on children", it will host a pavilion at the arms fair to market its "battle-tested" weapons.
Repression starts here: Despite UK-made weaponry being used to suppress protests in Bahrain, the country's brutal rulers were among 14 authoritarian regimes invited by the UK government to shop for weapons at DSEI 2013.
Environmental destruction starts here: Governments routinely put military spending before tackling climate change. The UK spends 25 times more on weapons research than research into renewable energy.
Because it starts here, we can stop it here.
We can stand in the way of the arms fair's business and its devastating impact around the world. Exhibition equipment and military hardware will be rolling (or sailing) into ExCeL – let's stop it getting to its destination.
You can help: